Since I made the decision to take my blogs seriously and experiment with various ways of marketing, many discoveries have been made. By far, blog hopping is my favorite.
Rather than try to explain something that I am just learning, click on the following blog hops that I am participating in today to learn more.
It is a fabulous way to make new friends, find awesome blogs, increase traffic, gain new followers . . . try it . . . you'll love it :-)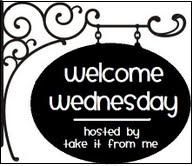 UPDATE:
I'm adding blog hops faster than I can keep up with this post . . .
all blog hops for this blog are listed on the sidebar.
Check out my other blogs for other blog hops.