Rebecca at the blog My Girlish Whims has the most gorgeous jewelry designs I have ever seen! It was such a treat to discover her blog :)
I just love this beaded necklace! It would be very easy to make a bracelet and earrings to match. How about a beaded hair barrette? You are limited by your imagination!
Rebecca made this necklace from new materials, however, like any other DIY jewelry piece you make, it is up to you . . . I would love to use old jewelry I already have that need repurposing.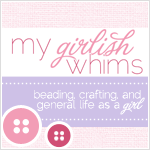 Click the button to go to the tutorial.
If you are like me, you will get lost in Rebecca's blog!