Time got away from me this morning participating in the blog hops and organizing new features for my blogs.
I've gotten lost in all things to do with crafts, DIY projects, home dec, cooking and general "getting ready for the holidays" stuff. It started when I found the blog hop I would like to feature today. You gotta check it out if this is your thing too . . .
Feature Your Sassy Sites Blog Hop
has a different twist . . . instead of just posting your sassy sites, you can also post ANYTHING that you have been up to during the week too. There are loads of craft projects, recipes entries all gearing up for the holidays. It is a free for all Friday party!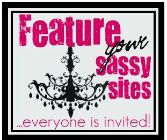 Friday is an awesome day for blog hops . . . get involved in the blogging community and link up with outstanding bloggers and creative people.
Have a fabulous Friday . . . here are lots of blog hops to keep you busy today!
Friday Blog Hops!