It has been a strange couple of days!
My sleep schedule is messed up and I'm running late on everything.
Thank you so much to my blogger friends who have sent me awards . . . I'm so touched!! But with those awards come additional blogs to write and other bloggers to nominate . . . and I am WAY behind on these!!
There aren't enough hours in the day!
But . . . I do make the time to visit the blog hops, check out some new blogs from each list and visit other blogs that I follow in between. I haven't been using my reader to visit . . . I'm using the blog hops to visit the familiar blogs I'm following. Hoping to get back to my reader soon!
The group of bloggers I admire so much are the mommies who really have their hands full . . . how do you do it? At the moment I don't even have a pet to take care of . . . just me and The Captain . . .
At the moment, my focus has been on blog hops and compiling my blog hop page. The next item on my agenda is to compile a giveaway page . . . you guys are awesome!
Soon I will be doing giveaways of my jewelry inventory that is way out of control. I've had awful experiences with eBay and have no intention of going back there again. Even if I did, I would never list all of the stuff I have . . . my last eBay store had 6,000 items listed which is a fraction of my inventory!
I've rambled enough for now, but I would like input on selling at Etsy. Many of you have Etsy stores and I am wondering how it is working for you. Are you happy listing there? Is it worth it?
Hope that everyone is having an awesome weekend!
Weekend Blog Hops and Events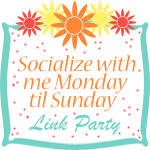 Saturday
Sunday